The journey into the unknown. Exploring the heart of darkness. Taking the road less traveled. Boldly going where few tourists have gone before!
Okay, I may have engaged in a bit of hyperbolic cliche there, but the places I'm going for my holiday break certainly qualify as the unbeaten path at the very least. This trip, which begins in just a couple of days, has me very excited and a bit nervous. None of the places I'm going are currently 'dangerous', but they have been in the not too distant past, and most of my journey is to parts of Myanmar that foreign tourists weren't even permitted to go to just three years ago. Consequently, as I've done my trip planning, scant information exists about them and my itinerary is somewhat loose. The southern road down the Isthmus of Kra is sort of on a slowly developing tourist path, but the online tools I've normally used when traveling around SE Asia have been somewhat useless.
For the 9-day journey, I've only made accommodation reservations for five of eight evenings, and those were made on the phone and aren't even paid for yet. Two of my stops don't have hotels with phone numbers that I could find on the internet, and definitely no way to book them online. I only know I can even stay there because of bare-bones, 100 word entries on Wikitravel.org. My only booked transportation is a flight back home at the end of the journey after I reach my final destination. I know what trains I'm taking and when, but I don't have a seat. There's a stretch in the middle where I've told myself, "Well, there's gotta be a bus between those two towns. I'll just ask around when I get there."

For many intrepid travelers, even this level of planning is more than they'd do. More meticulous planners would be aghast at the uncertainty in my journey. Me, as much as I'd like to say I'm a fearless wanderer who points a direction and just follows his nose 'that way!', in reality, I'm a bit uncomfortable heading out alone with these big gaps of unknown in the middle of my itinerary. I'll make the best of it, I'm sure, and in a way, the uncertainty makes it more exciting.
So where am I going? Let me share the plan, such as it is.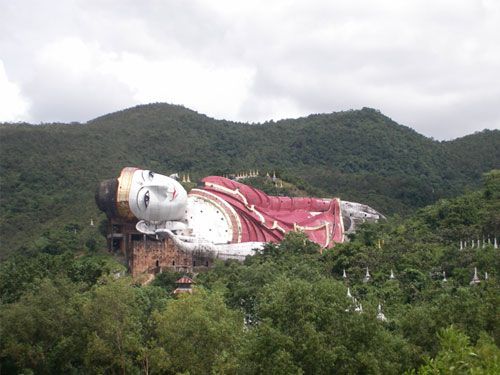 Somewhere near Mawlamyine. Myanmar's biggest Reclining Buddha.
1. December 23
rd
:
Yangon to Mawlawmyine.
Formerly known as Moulmein, my first stop is the capital of Mon State and a fairly big town. It's got a lot of history, as it was once the capital of the British Raj early in their takeover of Burma. The Mon are one of several 'nationalities' living in Myanmar. They speak a language completely unrelated to Burmese and have their own culture. There are things to see and do in Mawlamyine, but I can't tell you what they are the moment. I just realized I left my notebook with my itinerary at work, so the details for the rest of this blog will be vague. In any case, Mawlawmyine is a 5 hour train ride. I depart first thing in the morning, and I have a hotel 'booked' for the evening.
2. December 24th-26
th
:
Hpa-An.
An early morning ferry
sometimes
goes from Mawlawmine up the Thaniyin River to the town of Hpa-An, my next stop. See, it's a
sometimes
ferry because it's not used by the locals any more. They recently improved the road between the two cities, and a two hour bus trip is far more preferable to the locals than a five hour ferry trip against the current. The ferry service makes it's way north 'if enough tourists sign up to make it practical', and I'd think that on Christmas Eve Day, there will be enough. No worries. I'll take the bus otherwise.
Hpa-An is another old, famous city. It's the capital of Kayin State, home of the Myanmar tribes of the Karen people (who also live in large numbers in neighboring Thailand). I'm spending two to three days there, depending how much I like it. I plan on renting a motorcycle and tootling around the surrounding mountains. I hear the scenery is spectacular. I won't repeat my mistake that I made in Indonesia and do any vigorous hiking, but there are several accessible physical sites to visit.
The Karen people are almost all Christians, and so for 25th, I plan on doing something I haven't done in a couple of decades, attend church for the Christmas service.
4. Dec 27
th
:
Hpa-An to Kyaikkami/Setse Beach-
Here's where the uncertainty begins to kick in. I'm not sure exactly how I'm getting there, but I know there's buses from Hpa-An back to Mawlaymyine and then from there, it's not too far to this pair of seaside resort towns. Kyaikkami is the former end point to the notorious 'Death Railway', the rail path cut through the hills and jungles to Thailand by Allied POWs under the Japanese during WWII. About a year ago, I visited the Bridge Over the River Kwai in Thailand, so this historic, old, colonial town (formerly known as Amherst) seems like a natural destination on my slow slog south. I'm not sure where I'm staying there, but as it is also a popular getaway for the locals, there's got to be a lot more facilities than the one place listed in my three-year- old Lonely Planet guidebook. Setse beach seems to be quiet.
5

. Dec 28
th
:-
Ye
- How could I not stop in a place with this name? Ye
Yay
!) has the shortest name of any place I've ever been to in my life. It's about halfway between Kyaikkami and my ultimate destination, and despite being a fairly big town, it's rarely visited by foreigners. There's a wonderful park and lake in the middle of town where I'll rest on my way south. Instead of looking for attractions to visit, I suspect I'll be an attraction myself in this unheard of town.
6. Dec 29

th

to Dec 31st: Maungmakan Beach- About ten miles northwest of the provincial capital of Dawei (Tavoy) is a beautiful, quiet beach on the shores of the Andaman Sea. Again, I plan on renting a motorbike and exploring the scenic coastline, the city of Dawei itself and maybe go snorkling or fishing. I've got my hotel booked for this part of the stay, and I'll be getting there via rail from Ye to Tavoy, and then a bus. I expect it to be a peaceful place to just chill and relax.
Maungmagan Beach
7

. January 1
st
, 2015: Back Home I've got a midday flight from Dawei back to Yangon. At
What's odd about this itinerary is that none of it includes any of the "Big Three" of Myanmar tourism: Mandalay, Bagan and Inle Lake. Those three places is where all of the tourists go when they come here. I've had other foreigners react in utter disbelief when I tell them I've been here 9 months and not been to any of those places. Bagan, in particular.
See, when I thought about where I wanted to go, three criteria came to mind. I wanted to visit mountains, beaches and historical/cultural attractions. There are mountains around Mandalay and Inle, the latter being a big lake which might be thought of as beach-like. For sure Bagan is one the premier cultural attractions anywhere in Asia, and I hear its absolutely mind-blowing. That said, all of those places are very far away from one another, and here on this holiday week, are sure to be packed with tourists. My journey off the beaten path fulfills all my criteria in a relatively small corner of southeast Myanmar. That's why I picked this plan.
The world famous plains of Bagan
Besides, I get back on the 1
st
. I don't start work again until the 7
th
. Depending on how I feel, I can always make a quick trip up to Bagan in the time remaining.
For now, it's back to thinking about what I'm sure is going to be a trip I'll never forget.
Let's throw a video on the end. Two nights ago, it was my company's Christmas party. Santa showed up and appointed me the Chief Elf.