Tomorrow, I have to go into work for three hours, 12:30 to 3:30, to fulfill my final day of my non-teaching-week other duties. I'm going to be placement testing. I'll be the one who decides what level new students get put into as they enroll at my language school.
The Tungapuri Hotel in Nay Pyi Twa, the place I stayed
on my recent business trip.
It's going to be my 19th consecutive day working. Two weeks ago, I forwent my normal weekend to go up to Naypyitaw to do a big placement testing gig. A week ago, when all my colleagues were let go for our 5-week April leave, I'd agreed to hang out for another week to fulfill my non-teaching responsibilities. Tomorrow is Friday, and beginning Saturday, I'm off for an entire month. Paid vacation.
It's a bittersweet break. As I've mention many times before, my favorite aspect of my job is the time off. 10 weeks of paid vacation per year. Work 8 weeks, get a week off. Another 8 weeks, then 2 weeks off. As one of my main motivations for leaving Amerika was travel, this sweet schedule was awesome.
Alas, the business couldn't support this way of doing things, and so it was unilaterally decided that going forward, within the constraints of existing contracts, the 10 weeks would be shrunk to six weeks.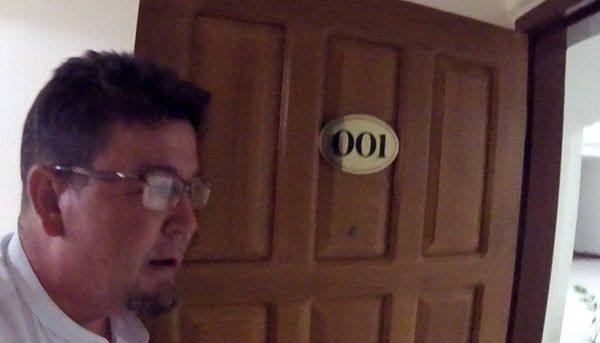 Room #1!
Well, damn. The best part of my job just got killed. My colleagues and I felt angry, fucked over, ignored. To a certain extent. Underlying this righteous indignation over the summary shrinkage of our benefits was the understanding that SIX weeks of paid leave would be fantastic in any other English language school around the world. Certainly, 6 weeks paid vacation isn't anything any American company would offer back home. Yeah, we had the rug pulled out from under us, but the carpet beneath the rug was still quite soft.
Today's video is the chronicle of my weekend in Naypyitaw two weeks ago.
I stayed in Room #001 of the Tunga Puri Hotel, which wasn't at all was I expecting having seen the hotel from the road many many times during my previous stay in the capital.
Drawing in the dust of the Tungapuri's inactive
main building.
In other news, it looks like after the break, I am actually going to be re-assigned to Naypyitaw. I won't go into details, as I've been told this before, but if it all works out, I'll be back in the fresh air of middle Myanmar and driving my motorbike come May.