I had a decision to make. I needed to finalize my route for the Borneo loop. Although my original plan didn't involve any tight schedules; I had no hotel reservations or anything like that beyond my first night's stay. I was, however, a day behind my planned time for leaving Pontianak.
But to where?
You may remember this map from before I set out: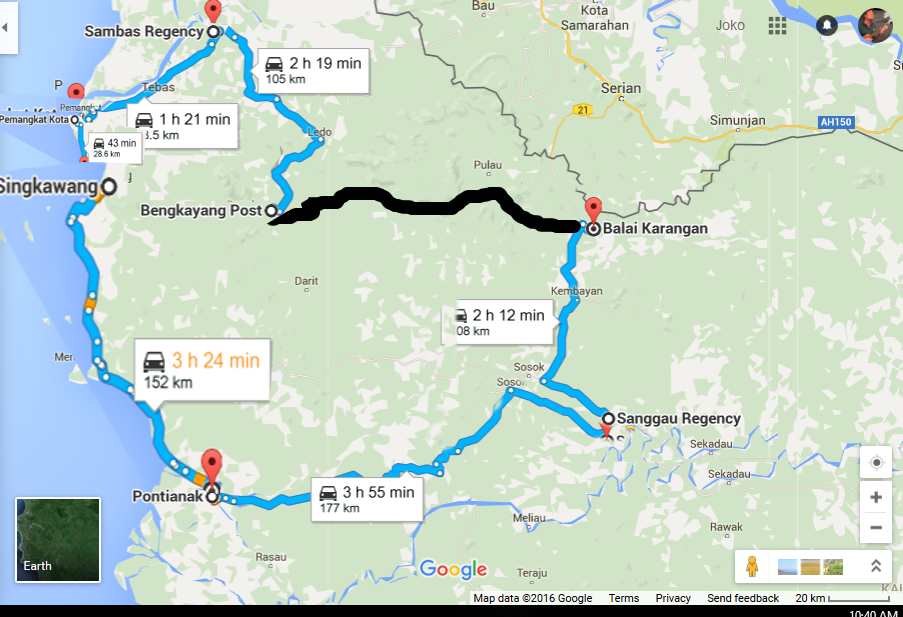 The original plan had me heading inland to the river town of Sanggau then north to near the Malay border at Karangan. The black line on the map indicated a road that I wasn't sure existed out of Karanga to Bengkayang. Thanks to the Kalimantan Barat Tourism Board and their map I picked up at the airport, I had learned that that road doesn not, in fact, exist.
Then there was the issue of the rain. It was the tail end of the rainy season, and the storms were still rolling in. Moreover, the motorbike I ended up with wasn't as nice as I had hoped I would get. It didn't even have gears, and when you're trying to climb hilly roads, you need to be able to shift into a lower gear.
So I decided to play it safe. Revised route map at right. Cutting out Sanggau and Karangan altogether. The revised route had me heading straight to Bengkayang out of Pontianak. I've also added a stop, Sungai Kunyit, where I'll be going tomorrow.
I was right about the rain. It was raining for about half my ride that day, sometimes pouring down in sheets. Despite this, I was enjoying the ride. There's something about being out on a country road in a country you've never explored before (or at least, not in 25 years). I was smiling and singing in the rain.
Rain! Do your worst!
And staying dry. The rain gear that came with my rented bike was great! With my eyeshields to keep rain off my glasses, my baggage securely bagged, and my gloves to keep my hands on the handlebars, the rain didn't bother me one bit. It certainly wasn't cold. I made it almost all the way to Bengkayang nearly completely dry. On approaching the town, the roads got worse. Huge pot holes made for small lakes in the road which was beginning to flood a bit. The rain didn't get me from above; the splashes got me from below.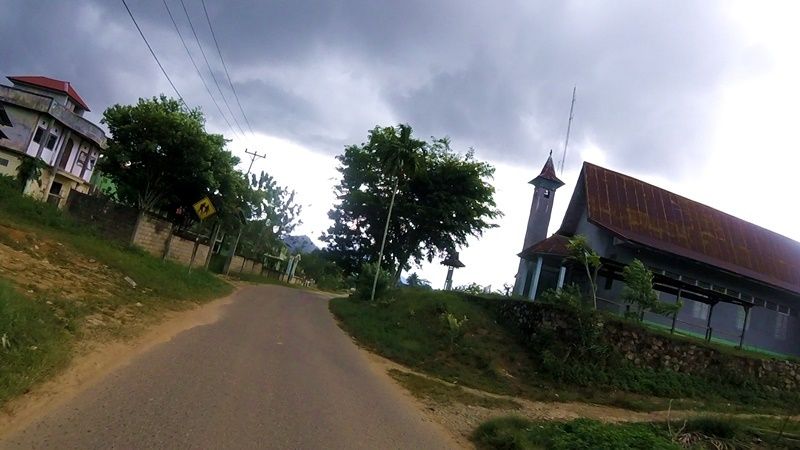 Having made good time, I had time to explore the area around Bengkayang a bit. I went down a remarkable back road that lead to some wonderful scenery.