One thing we like to do in 'The Staffroom' at my school is share some of the hilarious stuff our students occasionally hand in. Here's some of the answers I got from a particularly challenging part of the test given to my M-1/1 students... the same boys who brought us the Robot Cats a few months back.

I gave them a particularly tough question for their level of ability: write something in the context of what we've been talking about lately, the circus.
I dunno if this kid was just being a smartass, either because he realizes he can't fail and doesn't give a shit or was purposefully trying to be funny to impress the teacher, or if we may have a serial cannibal on our hands.
In case you can't make that out, it reads: "I kill all animals is die! and am eat animals in zoo am kill Hunman in zoo and eat Hunman."

To tell the truth, these sentences are in the upper half of what I got back in terms of intelligibility. He made sense. He used the exclamation point properly. He said what he would do if he were in the circus (zoo, whatever). Comparatively speaking, this was a pretty good response. Out of 6 possible points, how would you score this?

He didn't get to the 50 word requirement, but he got more than halfway. I have to admire how this kid got to the 50 words. Just keeping naming animals until you get there! Flies and "rads" are loveable animals, right?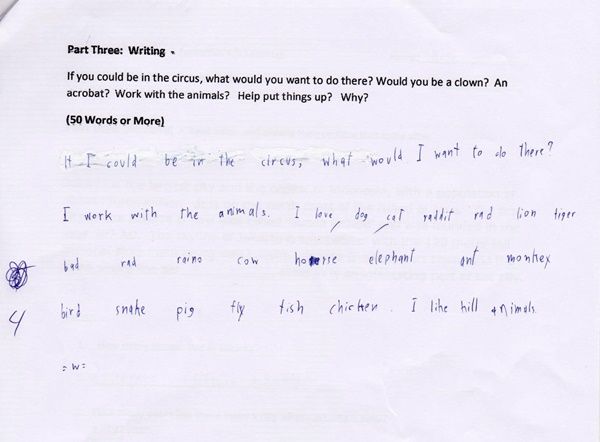 Like I said, 'free writing' is perhaps the hardest thing I could have asked of these 7th graders. For example, this kid did really well on the first two thirds of the test. He would have passed it had he just written something...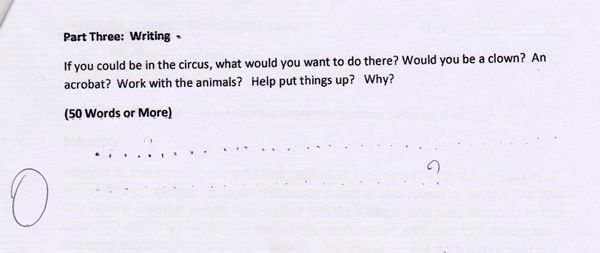 Maybe I should give him a point for the question mark.