Two weeks ago, I agreed to hire a cleaning lady to come in weekly at 3000 Kyats ($3.12) per week. She's here today for the frist time, on her hands at knees at the moment, diligently scrubbing underneath my sink. When she offered her services at the price above, I didn't hesitate. Yes, overcharging the foreigner is just the way things are done here in SE Asia, but at $3/week, that seemed reasonable to me, and so I hardly felt cheated.
My landlord stopped by just now, supposedly to drop off some brushes for the cleaning woman, but really just being nosy, and in a whispered tone so that the cleaning lady couldn't hear it, he informed me that the going rate for an apartment clean is 1000 kyats ($1) per week. He implied that I should just pay her 1000 Kyats for what I agreed to pay 3000 for just last week. He was standing in the room at the time when I made the agreement to pay $3/week in the first place. Why is now telling me I'm paying three times too much? When it comes down to it, although I'll haggle with a taxi driver or a vendor at the market, I can't renegotiate the price I've agreed to for a service once its done! That's ludicrous! Particularly to someone whose coming into my home to perform a service. I'm paying the 3000 Kyats and that's that!
> > >
Now, I sit here an hour later. Cleaning Lady is all done. My apartment is sparkling clean. Pictures!
You have to smell the cleanliness in this picture to really appreciate it.




Look at that shiny floor! Nothing out of place. My beautiful rose-colored (it's not pink) apartment.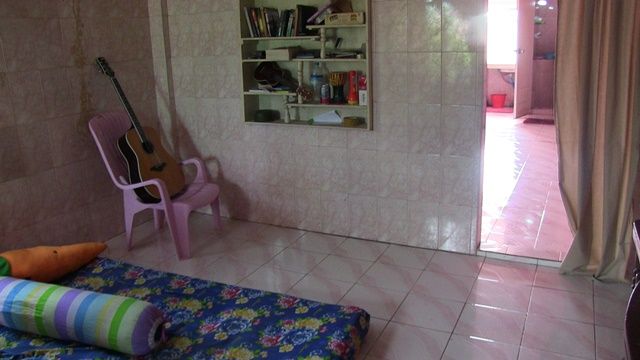 Ooh!
As she was leaving, I handed her the 3000 Kyats. She said, no, the charge was 1000 Kyats, and gave me 2000 back. Huh? She rattled off something in Burmese which I didn't understand, but I kinda think it meant that for the first week, because she was cleaning for the first time an apartment that was pretty dirty, the charge was 3000 Kyats. To maintain that cleanliness, it's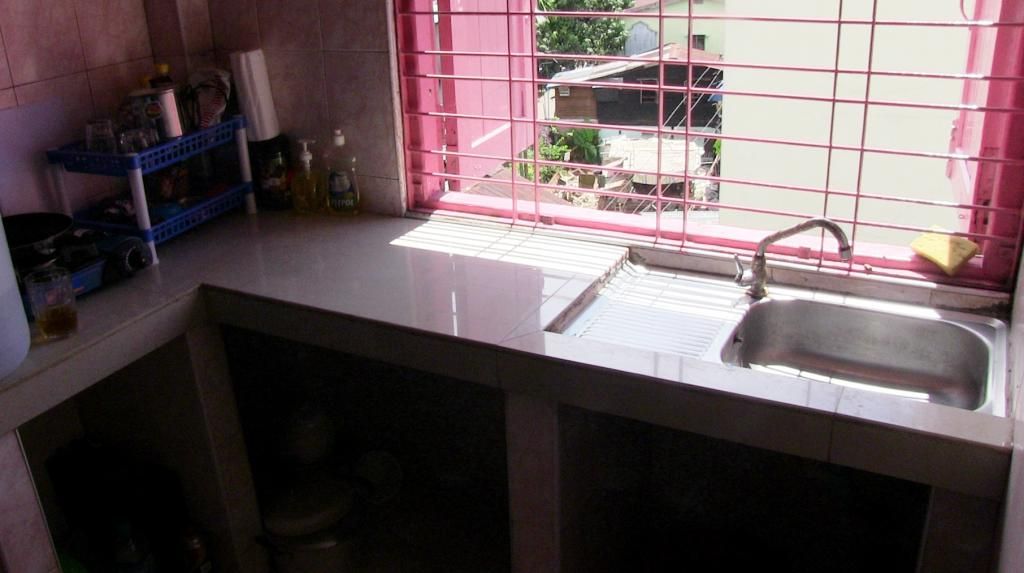 Kitchen counters, 100% pigeon shit free!

only 1000 Kyats per week. She could have tripled her wage with me and I'd have been none the wiser. Burmese people are at the core, a pretty honest lot. A dollar a week for a cleaning lady, yeah, I can do that.
Keep in mind that Myanmar is so impoverished, that half the country survives on an income of $2 per day or less. 25% of them on less than $1/day. $1 for about an hour's work cleaning; she's doing okay too.

>>>>
Oh look! A new ukulele video! This week's Seasons challenge encouraged multiple instruments. I bought a little Burmese drum and enlisted my friend Anthony, another teacher at my school, to come along with me to People's Park to be my back up singer and percussionist.