If you've been a regular reader of this blog, you know I've been struggling with a herniated disc in my back these last 16 months or so. Seems like every third blog these last couple years has been about my back. Well, hopefully, this will be the last 'back blog' I'll be writing for the foreseeable future. See, I've gotten it fixed.
I left Naypyitaw at noon on Friday. Six hours to Yangon by bus. 90 minutes to go 2 miles in Yangon traffic from the bus station to the airport. International flight to Bangkok, and I finally got to my hotel near midnight. As I was checking in, one of Thailand's notorious ladyboys barges in the lobby, humongous tits hanging out, and proceeds to buy 3 condoms and a bottle of lube from the other clerk at the desk and sashays on out again.
I picked this hotel because it was an inexpensive 2-star hotel near the hospital where I was going to be treated. What kind of hotel had I checked into?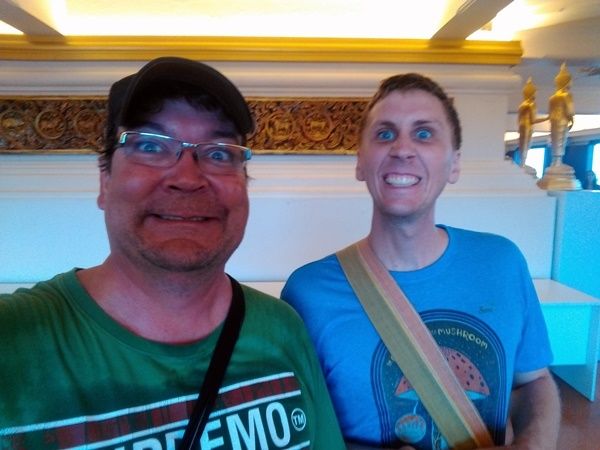 My 5 nights at the Atlas Hotel in Bangkok were weird. Yeah, the hotel was in the heart of (one of) Bangkok's party zones, but it was comfortable enough and it was walking distance to the hospital. My friend Anthony came to visit me from Northern Thailand, and he stayed with me while I got the preliminary stuff done before the surgery. It was great seeing him again and we had fun on Sukhumvit. We did a little bit of touristy stuff and he helped me make a uke video for the Seasons of the Ukulele.
On Saturday, I had an MRI and an examination, but not from the main back surgeon guy, the one recommended for me in Yangon. Nothing was decided on Saturday except that there were two possible surgical options for a ruptured disc: repair, i.e., shaving off the extruded part of the disc so that it no longer impacts the spinal cord; second, disc extraction and fusion of the two discs.
On Monday, I came back at met with Dr Verapan Kuangsongthem. We looked at my new MRI, and wow, even though I wasn't in any particular pain at the moment, my problem had gotten a lot worse since my last MRI in 2014. I had practically no disk left between the L5 and S1 vertebrae! All of it had burst out into my spinal column. Dr Verapan made no bones about it; I needed the fusion surgery. He called it a permanent fix, but it's a more intensive surgery requiring a longer recovery time. 4 to 6 weeks. We scheduled the operation for Wednesday.
Well, I was scheduled to teach again next Thursday! I'd need to do something about the class I'm teaching in Naypyitaw. I wrote to my company telling them what's going on and my need for extended rest. I proposed a couple solutions.
Tuesday was tough. By the afternoon, my insurance company still had not sent their guarantee of payment to the hospital. There'd be no surgery without that letter. I know asking them to turn around and approve a $20,000 surgery in one business day is a lot to ask, but they had received a preliminary cost estimate, my full medical history and had already agree that surgery was a medical necessity. They said they would expedite their assessment procedures. By evening, the guarantee still had not come, and the surgery was postponed.
More bad news from my employer. Given the length of my recovery time, they were sending a new teacher to Naypyitaw to finish the class I was teaching. I'd be doing my recovery in Yangon, returning to teaching in mid-November. Well, I suppose that's for the best in that it gives me the full recovery time, but I liked Naypyitaw. I wanted to go back there in November and finish up the course. I'm going to miss it. I'll be going back there in December to sell my motorcycle. I'm also worried that they're going to try and dock my pay for the time off; I've been reviewing out paid sick leave policies carefully.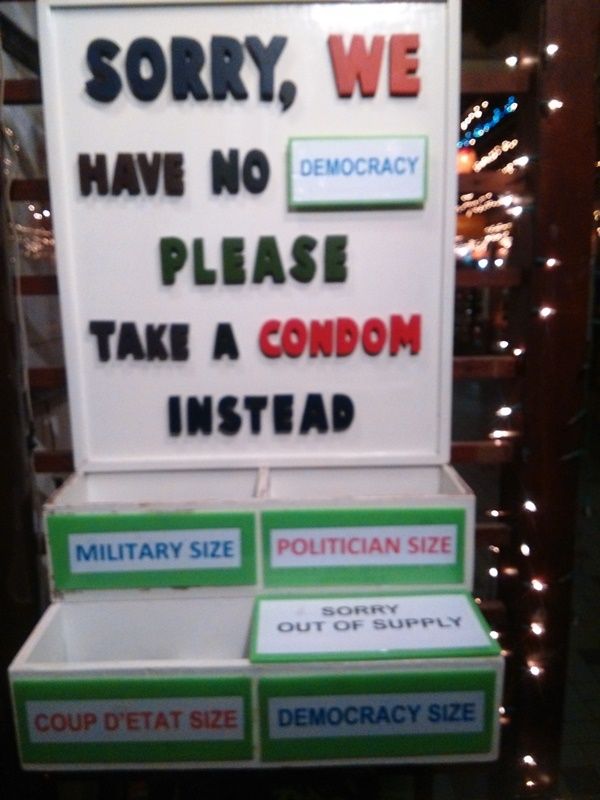 Very surprising to see this blatant
criticism of Thailand's military junta
At the same time, if I'm going to be just lying around doing light rehab, I'd rather do that in Yangon. I liked the environs of NPT better; but I liked my apartment in Yangon more than the dinky hotel room in NPT. There are some things I look forward to getting back to in Yangon.
By Wednesday, I didn't know what was going on. How long was this insurance approval going to take? The hospital wasn't just going to let me make appointments for major surgery and then postponing them. I couldn't continue to stay in the relatively expensive hotel near the hospital. Anthony went back to Chiang Mai, and I checked into a hotel further out. Back to the Nasa Vegas Hotel a bit more on the outskirts of town. It was like returning to an old lover. I've stayed several times at the Nasa Vegas; it's where my adventure in Asia began some 2 1/2 years ago.
AS I checked in, good news. The insurance approval came in; I was going for surgery on Thursday morning.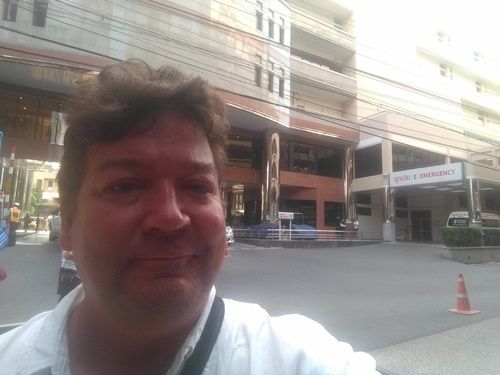 Checking in
I've never had real surgery before. I've never been put under anesthetic. I've never spent a night in a hospital. This was all new to me and I was a bit nervous.
Bumrungrad International Hospital is a world class facility and visited by people from all over the world. Lots of Arabs, Caucasians, Indians and Asians fill the hallways of this busy hospital. I got a private room, and it was nicer than most hotels I've stayed in!
12th floor. Quite a view!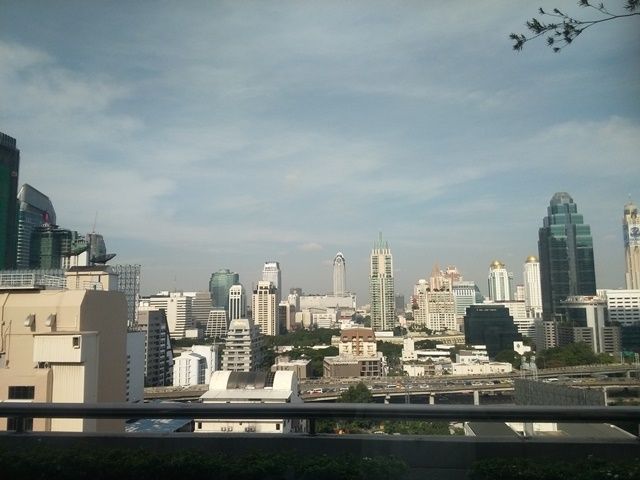 They put a mask on me to loosen up the phlegm in my smokers' lungs so that I wouldn't cough during the surgery. OMG... This was actually happening.
The last thing I remember was the anaesthetist saying, "you're going to sleep now..."
Waking up five hours later, I was groggy, disoriented and in a bit of pain. Not much, but a little. Eventually I got sent back to my room where I spent a night on lots of pain killers, fuzzy headed and unable to either stay awake or stay asleep.
By Friday morning, I was feeling better. I wanted a shower and a cigarette.
They see us rollin...
Now, it's Saturday, I'm able to walk around pretty well with a back brace, and I'll be checking out soon to return to the Nasa Vegas for a couple more days of recovery before returning 'home'.
They gave me a card to show at the airport when I set off metal detectors. I was actually quite surprised to see how big these screws were. Those are going to be with me the rest of my life.
One good part of this was that through the battery of tests I was given in order to prove that was healthy enough for surgery, I found out that I don't have any heart or kidney problems, my blood sugar levels are normal, my blood pressure is okay and I have neither HIV nor Hepatitis. These are good things, but still, I feel more inspired to get more fit. I lost about 20 pounds when I first moved to Asia; I've gained all that back. The doctor told me that the disc above the one removed is showing some initial signs of deterioration and if I didn't lose some weight, I'd be back having the same procedure in another 5 to 10 years.
I endeavor to do so.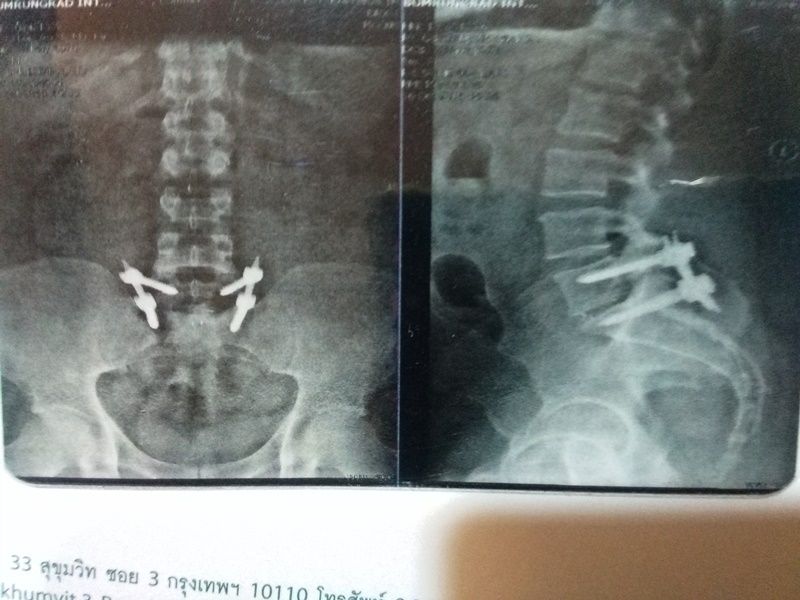 Here's my post-op x-ray. Look at the size of those screws! They even gave me a special card to show at the airport when I set off the metal detectors.