After my harrowing Friday with the new motorbike, I woke up to a sunny Saturday morning, bright and early, ready to explore this little corner of Thailand where I found myself. The city of Chonburi itself wasn't all that interesting, but after looking over the map I found that there was a beach town not more than 8 miles or so further along the coast by the name of Bang Saen.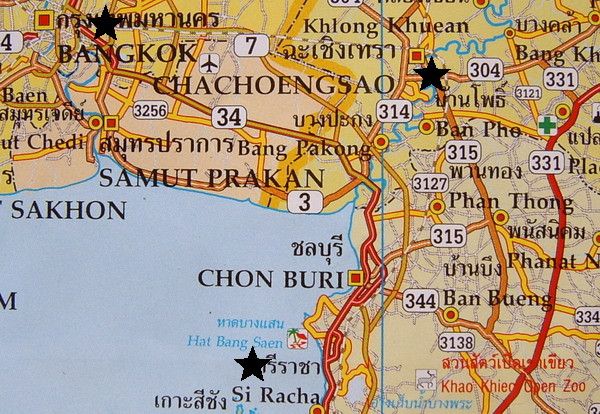 Here I've provided a map so you can follow along at home. In the upper left is Bangkok, my home. You can also see Chachoengsao, the nearby city where I bought the bike. Down on the right is Chon Buri and Bang Saen. Yes, the Si Racha a little further down the coast is the town which inspired the famous spicy red sauce that's very popular in America.
Can I tell you how wonderful the freedom of being mobile again feels? Being able to go where I want, when I want, as fast as I can provides such an amazing feeling of unbound possibilities. Even when I'm completely lost (as I was much of Saturday morning while looking for Baen Saen itself and then my next hotel room), at least I am completely lost on my own terms.
I understand that lots of readers don't watch the videos I post here. That's fine. There are lots of reasons not to. So, I'm going to add some 'frame grabs' of the true stars of today's video: The monkeys of Khao Samuk, a hill on the north side of Bang Saen that is utterly overrun by monkeys. The monkeys run the place, and the Thais love to come and visit.
They've even managed to train a few to work on their cars.
The first troop of monkeys I encountered are ones that get fed the most. There was a constant flow of tourists (all Thai; no foreigners) driving through, buying bananas, peanuts and rambutan from the vendors to feed these adorable macaque monkeys. Some of them were so fat and indifferent, they didn't even want the bananas I tried to give them. Some of them would take one, sniff it and then throw it on the ground, uneaten. These monkeys have the good life.
The monkey behavior I found most interesting was what I saw from the monkey moms. The monkeys that jumped up onto the roofs of cars to extort treats from the terrified Thai people inside was kind of funny, but was was poignant was how human-seeming the monkey moms were with how they treated their babies. You could almost say they loved them.
They were very nurturing, gentle and protective. You really have to watch the video to get a feel for what I'm talking about. For example, I managed to get one of the baby monkeys interested in my camera. It made for great footage when the little guy came over and touched the camera lens. Although it did leave greasy monkeyprints on the lens that I still haven't been able to fully clean off of the camera...
Right after this part of the video, Momma Monkey snatched back her baby away from the human with the strange device and gave me this look:
No, she isn't smiling at me. In monkey talk, showing the teeth like that is an aggressive behavior. It means 'back off or I'll bite you!' This is why you should never smile at an unfamiliar monkey.
So the moms are very motherly, and the dads... Well, this last pic, I just don't know what to say about it.
So there we are, folks. Ready for the video? Here we go! Enjoy!