Shwedagon, the icon of Yangon
Well, it's been a while since I've blogged. I actually had two people contact me who read the blog regularly and ask if everything was okay. So, as two people represents a significant percentage of my readership, I thought I'd take the time to let you all know that yes, everything is fine. I'm just plugging along here in Myanmar, working and waiting for my next vacation.
As it turned out, perhaps I did jinx the thing by writing in the last the blog that I would be going back to Naypyitaw. The big contracts which were on the verge of being signed fell through, and so my plans of being reunited with my beloved motorbike didn't work out. Instead, I've been working a lot of hours teaching in Yangon. Six classes, which is a lot to teach and plan for.
I resigned the lease on my apartment, but this time, as a future in capital is still possible, only for 6 months. As many of you know, my abode has caused me a lot of frustration and inconvenience over these last two years. Cockroaches. Roof leaks. Leaks through the door. Shaky power service which kicks off the aircon. One might imagine I'd have gotten sick of it and would move out. Well, there's lots of pluses to my apartment as well. It's roomy. It's got great natural lighting. I've got a wonderful balcony garden. And at 2.5 lakh per month ($210), it's really cheap for expat-suitable housing un Yangon. The hassle of looking for a new place, packing up and moving exceeded the negative feelings I'm feeling about the place.
I'm in room #1 at the Tungapuri. I can't
remember ever staying in a Room 1.
Ironically, I'm writing this blog tonight from the Tungapuri Hotel in Naypyitaw. We needed an extra teacher (the guy who replaced me when I went for back surgery is still here) up here to administer a large number of placement tests at one of the government ministries. Mondays and Tuesdays are my regular days off, so I was available for a little extra work for some overtime pay. It's nice to get out of town on occasion, even if it's for a business trip.
Unfortunately, these last two days haven't been as pleasant as I'd hoped as I've been vexed by a stomach bug. It's been more than a year since I've had the mild dysentery which just happens when living in the developing world. It was an awkward moment when I was traveling from the airport to the ministry with my administrative helper, who I had just met and had been supplied by the NGO we're trying to partner with, when I told the taxi driver to stop, jumped out of the car and vomited on the side of the road. I got back in and there was no comment. No asking if I was okay. They knew I had a case of Anawathra's Revenge and it was no big deal. 36 hours later, after plenty of imodium and re-hydrating salts later, I'm feeling better.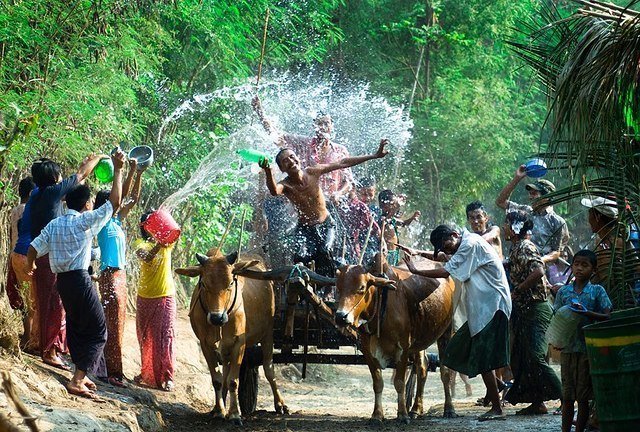 As I mentioned, I've been waiting for the next vacation, and it's just around the corner. I'm going to have 4 weeks off soon, from the the second week of April to the second week of May. During the first half of that, we have Thingyan, the Buddhist water festival, essentially a week long party involving lots and lots of water being thrown, sprayed and dumped on everyone everywhere. This will be my third Water Festival in Southeast Asia, and it's always been a lot of fun. I expect no difference.
For the second fortnight of the month off, I'm off to a place few go and for which I have little idea what to expect. Back in 1991, when I lived in Indonesia, my good friend Aaron went to live on a work-study expedition to Pontianak, Indonesia. Pontianak is the capital and largest city of the province of Kalimantan Barat which is the westernmost province of Indonesian Borneo.
Pontianak is on the banks of the largest river on an
island in the world.
Aaron said the place was a lot of fun, and since I wanted to go some place new and different, and I'm always happy to go back to Indonesia, I'll be spending 12 days in late April touring and exploring West Borneo.
Borneo! Who's been to Borneo?! That's one of the few places on Earth more exotic and unvisited than Myanmar. I'm going to rent a motorcycle and explore several parts of the parts of the province and I hope to see an orangutan or two.
I would like to share a video of my two-day Naypyitaw excursion, but I forgot to bring the gadget I need to get the vids off my camera onto my computer, and since the nearest store where I could buy one is 2 miles away (Naypyitaw sucks without transportation), you'll have to wait until I get back to Yangon.